I've had the pleasure of spending 24h in Berlin twice in the space of two months and I have to say, I'd love to go back when I had a bit more time to investigate things. I was there first to judge the European Search Awards then to attend the awards ceremony and each time I made sure I had a chance to make the foray into the city to taste of the local cuisine.
I was staying at the Raddison Blu the first time, with its giant fish tank in the middle, soaring up several stories. The second time I was at the Hilton, with its swanky lobby and amazing breakfast. Cake for breakfast is always going to be a winner with me though ;-) And of course proximity to chocolate!
Right around both these hotels are several chocolate shops that are well worth visiting. There are a variety of places to visit but of course I'm all about the chocolate - and the wine ;-)
Within about a five minute walk of both hotels is Bunte Schokowelt or Ritter Sport World. I could have spent ages here in the café alone with their Ritter Sport inspired pastries and cakes. You'll find this venue by looking for the brightly coloured flags. It isn't quite on the corner but near enough. There are tables and chairs outside as the weather gets warmer and inside the first thing you see is one of the cafes. On entering take the escalator to the next floor and visit the area where they teach kids how chocolate is made and the history of Ritter Sport. While I realise that this is not haute coture chocolate, they seem to be focusing on origin and food like the Chocolate Story in York. The bags of mini chocolate squares were something I made sure to buy both times ;-) but the cake is absolutely something special and worth taking time to relax and try.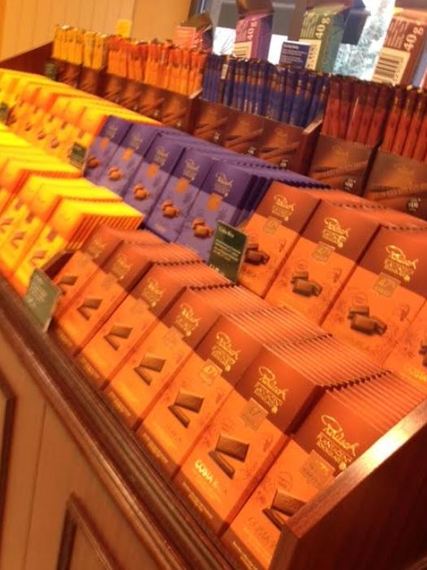 Image Credit: Judith Lewis
Then about 2min down the road is Fassbender & Rausch one of Berlin's most famous chocolate shops and one of their most exciting. With everything from marzipan in little shapes to chocolates from various origins, this is probably one of the most serious chocolate shops I was able to find. Of course it is difficult to find too much about the bean to bar scene in Germany, let alone Berlin due to my lack of familiarity with the language but I know there is one. I just cannot find it so I mollify myself with a selection box of various origins. I love how they have really made an effort to make origin chocolate accessible here, with tasting notes for the chocolate as you might have with wine, ensuring people who are buying the origins know what they are getting. Thankfully I kind of already know ;-) Why not pop around into the cafe here and enjoy something hot or cold with a cookie or some cake? It would make a lovely afternoon snack.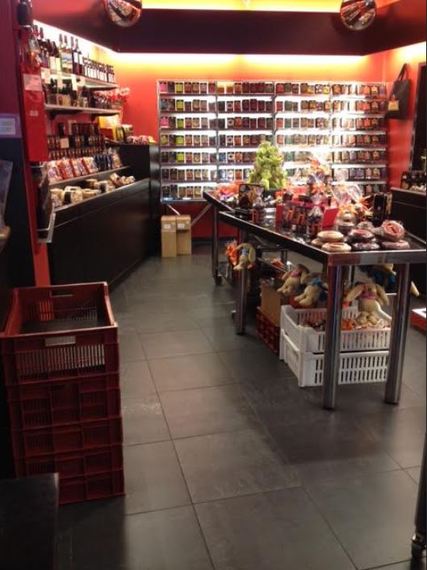 Image Credit: Judith Lewis
Around the corner and one block along from Fassbender & Rausch is one of the chain of shops called Leysieffer. This is an interesting shop with more bars than I could imagine. While their origin chocolate is limited, they do have a series of vintage year chocolates. This is something Valrhona also does but slightly differently. They were slightly smaller but still had a café as well as the shop itself and all that chocolate so you could have some cake and a drink after chocolate shopping. Of course being spoilt for choice I defaulted to origin chocolate but the tea chocolate as well as some of the other flavours were tempting. Plus there was the marzipan and husband is a fan soooo... ;-)
Now the Hilton was right in the middle of this trio of awesomeness but closer to the Raddison was the Bandy Brooks chocolate. This is a shop with filled chocolates and they mostly do ganache. They are more for the person looking to find something different and special but much like Hotel Chocolat in the UK I understand they create them centrally and distribute to their chain of shops. I think the novelty lies more in the variety and flavours than in the quality of the chocolate here. If you are visiting Berlin it is a nice place for an ice cream, maybe a coffee and a chocolate but I'd probably opt for something from Fassbender & Rausch like their boxes of origin sample bars.
There is more to Berlin chocolate and there is a small but present bean to bar scene but for the tourist in Berlin for a short time as I was, these are my picks ;-)