---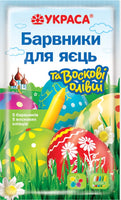 The set of synthetic food water-soluble dyes "Pastel + wax crayons" is used for coloring Easter eggs. With the set "Pastel+wax crayons" it is quite simple and easy to color large eggs, although the set includes five bags of 5 g of pastel saturated colors, where the solution from one bag is enough to paint up to 20 eggs, as well as wax crayons of different colors, with the help of which you can apply an ornament to a hot egg, then paint it in a dye solution and get an original interesting Easter egg. This set is quite popular in children's art. The finished solution can be reused if it needs to be heated, which is quite convenient when you need to color the eggs, for example, for a memorable Easter. Dyes for eggs "Pastel + wax crayons" are made from food raw materials, so they can also be used for the preparation of confectionery and culinary products.
With the Easter products of tm Ukras, you can recreate the best Easter traditions of the Easter celebration.

The package contains:
dye red 5g - 1 pc.
yellow dye 5g - 1 pc.
light green dye 5g - 1 pc.
lilac dye 5g - 1 pc.
turquoise dye 5g - 1 pc.
wax pencils (assortment) - 5 pcs.