---
Dr. Oetker
Dr. Oetker is a German company that produces baking powder, cake mixes, yogurts, frozen pizza, pudding, cake decoration, cornflakes and various other products.
The company was founded by Doctor August Oetker in 1891; the first product developed was "Backin", a pre-measured amount of baking powder that, when mixed with 500g of flour and other ingredients, produced a cake.
Dr. Oetker's son, Rudolf, died in the First World War. However Rudolf, and his wife, Ida, had two children, Rudolf-August and Ursula. Ida Oetker remarried Dr. Richard Kaselowsky, and they subsequently had four more children. Dr. Kaselowsky raised Rudolf-August and Ursula as his own.
Rudolf August Oetker, the grandson of Dr. August Oetker, led the company between 1944 and 1981, and during this period it achieved its highest growth. The company expanded its presence internationally, acquiring many companies around the world. When Rudolf Oetker stepped down from his leadership position, the 4th generation of the Oetker family took over from him. The family ownership established the management principle that "The interests of the company have priority over those of the family" (Annual Report Dr. August Oetker KG, 2005).
Dr. August Oetker, the great-grandson of the founder, led the company from 1981 until 2010. Under his tenure it expanded further in all areas, including shipping, food and brewing.
Richard Oetker, Dr. August Oetker's brother, took over as CEO in 2010.
The company also operates in Canada and has an office based in Mississauga, Ontario. In 1962, Dr. Oetker entered the Canadian market as Condima Imports Ltd. In 1992, it purchased the "Shiriff" line of products. In 2003, the Condima name was dropped and the company started using the Dr. Oetker brand.[2] In July 2011 Dr. Oetker announced the building of its first North American factory in London, Ontario to make frozen pizzas made from Ontario produce and ingredients that will be shipped in Canada and the USA.[3] In August 2014, McCain Foods announced that it will sell its North American frozen pizza business to Dr. Oetker.
Dr. Oetker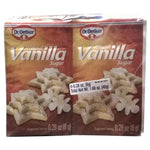 Dr. Oetker
Sale price $ 6.29
Regular price
$ 7.99
Sale